The NYCGBL hosts Open Play in basketball gyms in and around New York City. We're planning on holding these year round, so there's a consistent run during the season and in between NYCGBL seasons.  Emails for these Open Plays will be sent on Wednesday mornings.  In order to play, you must register using the form link in the email.
With these Open Plays, we want to ensure fair, efficient, relatively-affordable and fun games. 
2 hours of court time

Fee is $12 by Venmo of $15 cash in person 

Enforce a player limit to maximize court time for all

Players have to confirm attendance by submitting an RSVP

Please bring a dark and light shirt (or reversible jersey with two different colors)
See Below for UPCOMING OPEN PLAY Dates: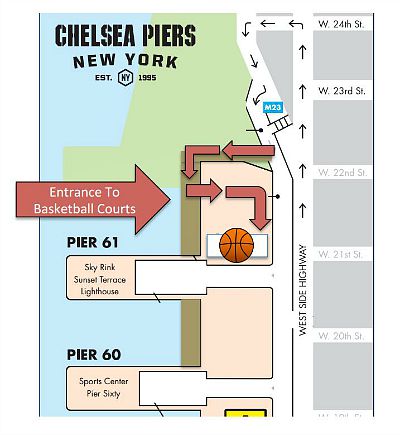 Open Play Guidelines:

I. RSVP IS THE ONLY WAY TO PLAY: 
So that players receive maximum court time, we are limiting open plays to a maximum of 20-22 participants who RSVP. To reserve your spot at an open gym, you must
submit an RSVP
each week you plan on attending. 
We'll close the RSVP form once we are at capacity, we will send confirmed players an email 24-48 hours before the open play date.  
Do not
 show up to the gym if you haven't received an email from one of the Directors --
you will be turned away and not allowed to play
. Allowing walk-ins defeats the purpose of RSVPs and isn't fair to those that have signed up ahead of time.
On the other side, if you submitted an RSVP and are a "no show" (without letting us know ahead of time) be aware that we're noting it and will impact your ability to participate in future open plays. 
II. PAYMENT: Payment is either via Venmo ($12 here) or by cash in person ($15).
III. GAME PLAY: 
We have 120 minutes to get in as many games as we can. 
Games are played first team to 21 (by twos and threes) or ten minutes, whichever comes first. Ties will be settled by
sudden death
.
Sorry for being pushy, but as soon as we have ten players in the gym (that have paid), we will stress starting the game immediately. Directors will divide the two teams up fairly. 
Win or lose, teams will play two games in a row and are off. Only the first game of the night will be determined by win/loss (winner stays on). This isn't perfect, but the easiest way to manage and is the best option for players to get in a couple games then rest.
Unless there is an injury or major issue, the clock will continue to run. The responsibility is on the players to resolve contested calls and in-game problems.
IV. SIGN UP SHEET: 
The sign up sheet for "next" is merely a suggestion. Directors will do their best to ensure that players are served as they have arrived (and paid) chronologically at the gym. With 20+ players, that means there will be times you are asked to sit out an extra game even if you
"signed up"
before someone else. Trust us in these unlikely instances. We'll do our best to avoid anyone sitting more than one game at a time. 
And don't be that guy/gal that 
SIGNS UP DURING A GAME. Any player that leaves an active game to sign up on the sheet will forfeit their position and some of their reputation.
V. EXPECTATIONS OF BEHAVIOR:  
We want a safe, fair environment (and maximize game time) so any excessive arguing, foul language, crude behavior or overall bad attitude that jeopardizes the integrity of the open play will result in player unable to participate in future ones. Any physical altercations or repeated bad behavior can result in the player being ejected from the open play. Behavior is defined by, and at the discretion of, the Open Play Directors.
VI. YOU MUST AGREE TO OUR LIABILITY WAIVER
VII. ONE LAST WORD... i
f there's one thing you take away from this is that the Directors have only 120 minutes to spread across 17+ players that all want to play

. These guidelines were created with that in mind.
Clock starts and doesn't stop. 
It's nothing personal, we only want to ensure everyone feels as if they got their moneys worth period.  
We appreciate your understanding and patience.