1. When was the Gay Basketball League formed?
The league was formed in the Fall of 2006.
2. Why was the league formed?
In 2006, a group of sports enthusiasts noticed that New York City had a number of athletic teams for those in the Lesbian, Gay, Bisexual and Transgender (LGBT) community but yet no structured basketball league. Thus, they took it upon themselves to create New York's first official gay basketball league.
3. Where are games held?
We play at two locations:

The Field House at Chelsea Piers

, Pier 61 at West 23rd Street in Manhattan

John Jay College of Criminal Justice, which is located on 899 Tenth Avenue, between 58th and 59th Streets in Manhattan. You must show a valid ID card to gain access to the gym.
4. How many levels are there?
There are three divisions. 
Division A is for competitive/advanced players.
Division B is for competitive/intermediate players. 

Division C is for recreational/beginner players.
5. I identify as transgender or gender non-conforming or a gender other than those listed here; which league should I register for?
The NYCQBL fosters a safe and welcoming environment to play basketball and build community.  All gender identities are recognized, so we encourage you to register for whichever league you feel most comfortable competing in.  We do not question which league players register for based on gender identity.
6. If my gender pronouns and/or identity is disrespected, what should I do?

If your gender identity is disrespected, we encourage you to address it with whomever you feel most comfortable: the individual(s), your team captain and/or the NYCQBL board.  Per the league�?�¢??s code of conduct, the NYCQBL does not tolerate discrimination of any kind.  Captains and board members are aware of the code of conduct and have been charged with upholding the league�?�¢??s mission.
7. What days are games held?
Men's Division games for the Spring 2017 Season will be on Saturday afternoons/evenings.
8. Are there games on other nights?
Not at the present time.
9. I don't know that much about the game, can I still participate?
Absolutely. Beginners are always welcome, as are players of all experience levels. We recently created the C Division which provides a recreational and instructional environment for players to get more playing time and improve their basketball skills. 
10. Is there a beginner's clinic?
From time to time we offer a beginner's clinic to run drills and practices for new players.  Most coincide with each new season.  Please email us at boys@nycgaybasketball.org if you are interested.
11. How are the teams picked for the A and B?
When people convey interest in playing with the league they are initially asked to self-assess their skill level. They are all then asked to participate in an evaluation process before the beginning of their first season in the league.  The New Player Evaluation process involves a series of drills and/or games where league captains can observe each player's skill level prior to the Draft. 

Players are then divided into two Draft Pools (one for Division A and one for Division B) by members of the Draft Committee.  Team captains then chose players through the Draft in advance of the start of the season.

Due to the NYCGBL's use of a Draft and in the interest of fairness, the Board of Directors cannot guarantee special requests for team or division placement.

For more information, please refer to our Draft Policy. 
12. Are there playoffs?
Yes. At the conclusion of each season, teams battle it out in playoffs to win their division championship.
Currently 4 teams in each division compete in the playoffs.
13. Is there a women's league?
Yes!  Check out their website.  If you are interested in playing in the Women's league, please send an email to women@nycgaybasketball.org.
14. Is there open play?
From time to time.  Please join our mailing list to be alerted to upcoming events by clicking here.  You may also view the Open Gym section of our website.
15. Are there practice sessions?
Unfortunately, there are no practice sessions scheduled.  During each season, some Captains and players organize pick-up games and practices. These sessions are not mandatory and are not sponsored by the NYCGBL unless expressly stated.
16. How much does it cost to participate?
Each season is different based on the number of expected players, sponsors, and court fees.  For the Spring 2016 Season, fees for the Men's A and B Divisions are $180 (regular registration) or $200 (late registration). The C Division is $125 as referees will be volunteer and there's one less game during the season. 
17. How many seasons do you play?
The NYCGBL has two seasons; Fall and Spring.  The Fall season starts in September.  The Spring season starts in March.
18. Are there League-wide social events?
Yes! After games each week, we hold social events at establishments around New York City, typically at bars who sponsor the NYCGBL.  Periodically, we host "Meet & Greet" events as well.  Check out our Calendar for information on upcoming league and community events!
19. Do you have to be gay to play in the league?
No!  The NYCGBL fosters an athletic environment free from discrimination for members and friends of the Lesbian, Gay, Bisexual and Transgender (LGBT) community. It also promotes positive values in our community and will fight to eliminate negative stereotypes associated with LGBT athletics.
20. How do I become a sponsor?
Teams are sponsored by a number of businesses and organizations around New York City.  For more information, please visit our Sponsor page or send us an email.
21. Who is on the Board of Directors of the NYC Gay Basketball League?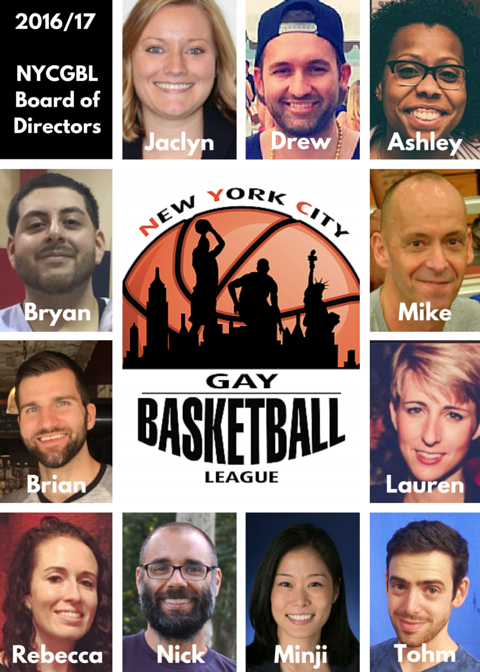 22. Who do I contact to sign up?
Set up a player profile on our website by clicking here.  This will ensure you receive all emails about registration, league events, etc. You can also send us an email if you have any questions or would like more information.